大西 梓
Azusa Onishi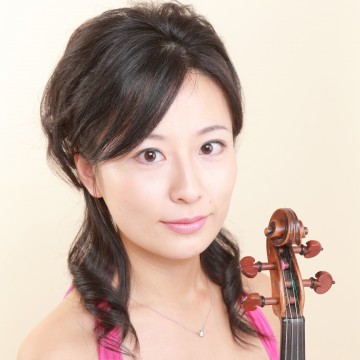 本場イタリアを拠点に活躍中、正統派ヴァイオリンの音色
桐朋学園大学卒業後イタリアへ渡り、F.モルラッキ音楽院を最優秀卒業。サンタ・チェチーリア国立アカデミーを首席卒業。
2007年日本クラシック音楽コンクール弦楽器部門大学の部第2位(1位なし)。2010年リヴィエーラ・エトゥルスカ・コンクール(伊)第1位。2010年にピアノトリオ"Trio Les Amis"を結成し、2011年ロスピギオーシ・コンクールのトリオ・カルテット部門第1位、2012年クレッシェンド・コンクール室内楽部門第1位、パドヴァ国際音楽コンクール室内楽部門第1位。2013年プレミオ・グイード・パピーニ国際室内楽コンクール第2位。同年、フィエソレ音楽院より奨学金を授与。イ・ソリスティ・ディ・ペルージャのメンバーとしても数多くのコンサートに出演。
名倉淑子、影山優子、パオロ・フランチェスキーニ、クリスティアーノ・ロッシ、ソニッグ・チャケリアン、マルコ・フィオリーニ、藤原浜雄、北本秀樹、フランチェスコ・ペピチェッリ、トリオ・ディ・パルマに師事。
現在、オルケストラ・ダ・カメラ・ディ・ペルージャのメンバーほか、ヨーロッパ各地で活躍。
Azusa Onishi was born in Kanagawa, Japan. She moved to Italy after graduating from Toho Gakuen School of Music in 2008.
In Italy, she graduated summa cum laude from F. Morlacchi Conservatory of Perugia in 2011. She continued her study at National Academy of Santa Cecilia in Rome and graduated summa cum laude from the academy in 2014.
In 2007, she won the highest prize at the 17th Japan Classical Music Competition.
In 2009, she won the Luigi Castellani Award in Perugia.
In 2010, she won the 1st prize at the Riviera Etrusca Competition in Italy.
In 2011, her piano trio "Trio Les Amis" won the 1st prize at the trio/quartet section of the Giulio Rospigliosi Competition.
In 2012, "Trio Les Amis" won the 1st prize at the chamber music section of the Padova International Competition.
In 2013, "Trio Les Amis" won the 2nd prize at the Premio Guido Papini International Chamber Music Competition and was granted the scholarship for the chamber music course at Fiesole Conservatory.
She was regularly playing at the concerts of the string orchestra "I Solisti di Perugia" in Italy and some other countries. In 2011, they had a concert with the attendance of Emperor and Empress of Japan at Kusatsu International Summer Music Academy and Festival.
She is currently playing at the concerts of the chamber orchestra "Orchestra da Camera di Perugia" as well as her solo concerts and chamber music concerts over Italy and other countries in Europe.
In her career, she has been studying violin with Yoshiko Nakura, Yuko Kageyama, Paolo Franceschini, Christiano Rossi, Sonig Tchakerian, and Marco Fiorini. She has also been studying chamber music with Hamao Fujiwara, Hideki Kitamoto, Francesco Pepicelli, and Trio di Parma.