リカルド・タムラ
Ricardo Tamura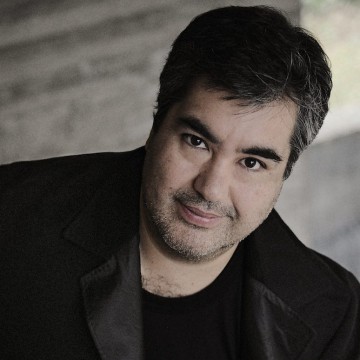 メトロポリタン歌劇場、ドイツのオペラハウスを席巻
知的でドラマティック、圧倒的な美声と声量
 ブラジル・サンパウロ生まれの日系三世。サンパウロ大学で地質学と物理学を修め、マサチューセッツ工科大学のプロジェクトに招かれるなど、科学者として将来を嘱望されていたが、趣味で嗜んでいた声楽レッスン教師の勧めで受けたサンパウロ・オペラハウスのオーディションに見事合格。すぐにアメリカに渡り、リチア・アルバネーゼの強い勧めで、オペラ歌手の道を歩むこととなる。ジュリアード音楽院に学び、イタリアでカルロ・ベルゴンツィに師事、チューリヒ歌劇場インターナショナル・オペラ・スタジオで研鑽を積む。
 ドイツ・カッセルにて『青い仮面』アルマンド•チェリーニでデビュー後、ヨーロッパ各地で『オテッロ』オテッロ、『カルメン』ドン・ホセ、『トゥーランドット』カラフ、『道化師』カニオ、『椿姫』アルフレート、『微笑みの国』スー・チョン殿下、『仮面舞踏会』リカルド、『マノン・レスコー』デ・グリュー、『ラ・ ボエーム』ロドルフォ、『リゴレット』マントヴァ公爵、『アイーダ』ラダメスなどで活躍を続けている。
 2013年、メトロポリタン歌劇場に『トスカ』カヴァラドッシでデビュー、2015年『ドン•カルロ』タイトルロール、2016年『カヴァレリア•ルスティカーナ』トゥリッドゥなど同劇場にたびたび出演、J.レヴァイン、M.アルミリアート、F.ルイージ、Y.ネゼ=セガン、D.オーレン、L.ケーニヒなどと共演。
 ドイツ、ニューヨークを拠点に精力的な活動を続け、日本でも、2008年名古屋フィルハーモニー交響楽団(プッチーニ生誕150年記念コンサート)と共演、2016年東京で公演など、活躍の幅を広げている。
Brazilian Tenor Ricardo Tamura was born in Sao Paulo, to a Japanese father and a Syrian mother. (Both second generation of immigrants.)
Because he showed very early signs of high intelligence, his parents expected him to become a scientist, a career that he loved and passionately pursued during his early years. He wanted to learn everything about the Universe and outer space.
So, before the age of 20, he already had two college degrees (in Geology and Physics), and had become an assistant Professor, at the University of Sao Paulo. Right after graduating, he received invitations to work in many international projects, including one with the Massachusetts Institute of Technology (MIT), the institution which had been his childhood dream.
But, as things turned out, he could never go to MIT because of problems created by the Brazilian bureaucracy at the time.
During his last college years, he had been taking voice lessons as a hobby, and his teacher at the time had told him that he had a good voice for Opera…. Although this never sounded like a possible career for him, out of frustration with the problems that kept him from going to MIT, he decided to do an audition to the Opera House in Sao Paulo… And he was hired!
Still not believing in the outcome, he flew to the USA, in order to hear the opinions of more acknowledged people.
There, he met the legendary soprano Licia Albanese, who also told him, even more enthusiastically, what he had already heard from his Brazilian teacher…
After a relatively short study time which included the Juilliard School of Music in NY, six months in Italy under Carlo Bergonzi, private lessons with Licia Albanese and the International Opera Studio in Zurich, he got his first job as a singer, in Germany.
After his debut as "Armando Cellini" in Raymond's Operetta "Maske in Blau", he went on to sing around 50 leading Opera and Operetta roles all over Europe.
In 2013 he made his debut as Cavaradossi ("Tosca") at the Metropolitan Opera in NY, and has been performing regularly there since then.
In this Season, he was seen as Turiddu ("Cavalleria Rusticana").
His most performed roles, besides Cavaradossi and Turiddu, include Otello (Verdi's "Otello"), Don José ("Carmen"), Calaf ("Turandot"), Canio ("Pagliacci"), Alfredo ("La Traviata"), Sou-Chong ("Das Land des Lächelns"), Riccardo ("Un Ballo in Maschera"), Des Grieux ("Manon Lescaut"), Rodolfo ("La Bohème"), Duca di Mantua ("Rigoletto") and Radames ("Aida"), with which he had his debut at the Arena di Verona.
He has worked with many important conductors, including names like James
Levine, Marco Armiliato, Fabio Luisi, Yannick Nézet-Séguin, Daniel Oren, Lothar Koenigs, to name just a few.
Although he loves and feels a deep connection to Japan he has only been in this country twice, in 2008 as he did a concert in Nagoya celebrating the 150 Anniversary of Puccini's birth, and in 2016 giving a concert in Tokyo.